… from simple to the complex
For over a decade, the primary function of Stone Image, Inc. has been supplying the need for standard and custom architectural precast concrete shapes and forms. From the original sculpture to manufacture of small/simple shapes and forms, to concrete elements incorporating sophisticated designs, STONE IMAGE can supply products to meet most requirements.
COLUMNS, BALUSTRADE RAILING, TRIM PROFILES, WALL CAP, PIER CAPS, COPING, PAVERS, TREADS & RISERS, VENEER, DECOR WALL IDEAS, FIREPLACES & SPECIALTY ITEMS
… the cause & effect … of cast stone products
Fireplace mantels complete with total wall elements are a specialty of Stone Image. We offer standard and custom designs to complement your decor.
PATIO, POOL DECK, WALL AND WATER FEATURES
are available to meet your requirements.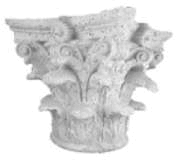 … from concept through application …
DESIGNER NOTES
COLOR
STONE IMAGE offers twelve standard colors to complement the architectural surround. Custom colors are available. The pigments used to produce permanent durable cement colors are both natural and synthetic oxides as supplied by leading cement color manufacturers.
DIMENSIONAL TOLERANCES
Decorative precast concrete is an art form and engineering type tolerances such as +/_ .005 are not possible. Typically, +/_ 1/8" is acceptable to the construction industry. however, tigher precast concrete product tolerance is possible. When considering tolerances one must consider the precast product, the building structure, and the use of the materials for the application of the precast.
REINFORCING
Many architectural precast products are recognized as nonstructural elements and reinforcement is not required. If reinforcement is necessary, fiberglass or stainless steel are most commonly used to provide strength requirements and rust resistance.
SPECIAL APPLICATIONS OR CONDITIONS
Same applications of precast concrete require special considerations as determined by an engineer or architect. They might include: design calculations, product data, product testing, special anchorage devices or shop drawings by registered enineer. These special requests are available.
DESIGN SHEET
MA sketch or sketches of your requirement or complete separate drawings can assist STONE IMAGE to provide an accurate quotation or to offer design assistance for your specific needs…. standard or special.