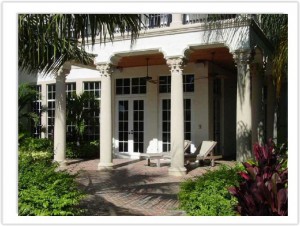 The beauty that can be added to your property with Stone Image products is astounding. Adding columns at an entrance, balustrades around a pool or on a balcony, indoor and outdoor fireplaces, or cast stone trim around windows and doors are just a few of the projects which can take your home from having "lots of potential" to absolutely striking. We have lots of designs to meet your preferences.
Utilizing state of the art techniques and materials, combined with old world craftsmanship our cast stone columns, lightweight precast columns, pool coping, historic restoration parts and other precast products are not massed produced without any character in a factory, as most other companies manufacture them.
Our product is hand cast onsite in our own original textures and designs based on the classical formal cast stone profiles of Tuscany and Southern France, the informal precast concrete stone profiles of the Mediterranean and even the aged and weathered Cantera or Adoquin stone of old Mexico.
We offer a design service and can design your project from scratch or from your plans. If you are just researching a future project we can recommend experienced architects who are also familiar with precast and cast stone.
Stone Image, Inc. is one of the most respected architectural precast and cast stone companies based in the South Florida area.
| | | | | | | |
| --- | --- | --- | --- | --- | --- | --- |
| Diameter | Shaft Length | BaseWxH | Std . CapW   x   H | CorinthianW   x   H | Max . HeightWith Std . Cap | Max . HeightWith Corinthian |
| 1 .  Straight | | | | | | |
| 6" | 8' -0 " | 8¾"   x  4 " |   1 0 ¼" x  4 ½" | 9½"   x  8 ¼" | 8' -8  ½" | 9' -0 " |
| 8" | 8' -0 " | 1 2  ½"   x  5 " | 1 3 " x  6  ¼" | 1 5 "   x  13 " | 8' -11 " | 9' -6 " |
| 1 0 " | 8' -0 " |   1 4 ¾"x  5¾" | 1 5 " x  7  ½" | 1 9 "   x  15  ½" | 9' -0 " | 9' -8  ¾" |
| 1 2 " | 1 0 ' -0 " | 1 6 ¾"x  6 ¼" | 1 8 ½"x  8 ½" | 2 2 "   x  18 " | 1 1 ' -2  ¾" | 1 2 ' -0 " |
| 1 4 " | 1 1 ' -11 " | 1 9 ½"   x  7 " | 2 0 ½" x  9 ½" | | 1 3 ' -3  ½" | |
| 1 6 " | 1 0 ' -6 " | 2 1 "   x  8  ¼" | 2 4 "   x  11 " | 3 2 "   x  26 " | 1 2 ' -1  ¼" | 1 3 ' -4  ¾" |
| | | | | | | |
| 2 .  Tapered | | | | | | |
| 1 0 "   to  8 " | 8' -0 " | 1 4  ¾"x 5  ¾" | 1 3 "   x  6  ¼" | 1 5 "   x  13 " | 9' -0 " | 9' -6  ¾" |
| 1 2 "   to  10 " | 1 0 ' -0 " | 1 6  ¾"x  6 ¼" | 1 5 "   x  7  ½" | 1 9 "   x  15  ½" | 1 1 ' -1  ¾" | 1 1 ' -9  ¾" |
| 1 4 "   to  12 " | 1 0 ' -8 " | 1 9  ½"x  7 " | 1 8  ½"x 8  ½ " | 2 2 "   x  18 " | 1 1 ' -11  ½" | 1 2 ' -9 " |
| 1 6 "   to  13 " | 1 2 ' -0 " | 2 1 "x  8  ¼" | 1 9  ½"x  8  ¾ " | 2 2 "   x  18 " | 1 3 ' -5  ¼" | 1 4 ' -2  ¼" |
| 1 8 "   to  15 " | 1 0 ' -0 " | 2 4  ½"x  8 ½" | 2 2  ½"x  10 " | | 1 1 ' -6  ½" | |
| | | | | | | |
| 3 .  Rope | | | | | | |
| 6" | 6' -0 " | 8¾"   x  4 " |   1 0 ¼"   x  4½" | 9½"   x  8 ¼" | 6' -8  ½" | 7' -0 " |
| 8" | 8' -0 " | 1 2  ½"   x  5 " | 1 3 "   x  6  ¼" | 1 5 "   x  13 " | 8' -11 " | 9' -6 " |
| 1 0 " | 8' -0 " |   1 4 ¾"x  5¾" | 1 5 "   x  7  ½" | 1 9 "   x  15  ½" | 9' -0 " | 9' -8  ¾" |
| 1 2 " | 8' -0 " | 1 6 ¾"x  6 ¼" | 1 8 ½"x  8 ½" | 2 2 "   x  18 " | 9' -2  ¾" | 1 0 ' -0 " |
| 1 6 " | 8' -0 " | 2 1 "   x  8  ¼" | 2 4 "   x  11 " | 3 2 "   x  26 " | 9' -7  ¼" | |